The villa



The most romantic way for you to come to Villa Rusconi-Clerici is from the lake, watching the house getting larger and larger as you approach the jetty.


Once on the great front lawn, you will be struck by the sheer size of the Villa, which however is enlivened by the decorations on the façade and by the play of light and shade, giving it a particular charm.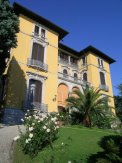 From the garden an imposing flight of steps with two 18th century marble lions leads to the terrace.

A peasant gallery connects directly the pavilion to the villa, avoiding bad weather risks fo the bride and groom and all their guests.

Into the portico shaded by its orange awnings, the lake stands before you. We shall now take you on a tour of the ground floor of the Villa (see plan below).

You should turn round before entering the house to get an unrivalled view of the islands in the Borromean Gulf and the mountains; the garden and the lake blend into a single endless vista which seems to culminate at the point where you are standing.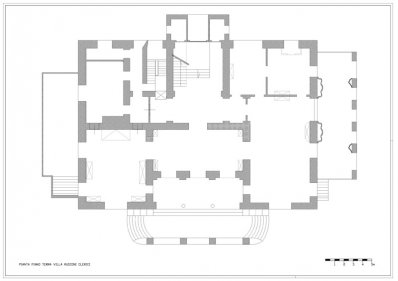 The entrance hall typifies the atmosphere of the villa. In striking contrast to the bright sunlight outside, the interior is cool and dark with wood panelled walls, paintings, curtains and antique carpets.


The hall passes directly into the grand drawing room, with the tea room and what the family still calls "grandpa's study" leading off it.

The drawing room gives onto the rare and delightful winter garden with its unique rocaille walls.
Here we are experimenting with different types of climbing plants, flowers and orchids to create a green oasis in the style of a 19th century English conservatory or a French orangerie.


On the opposite side of the hall is the main dining room with its enormous walnut fire place, used regularly during cool autumn evenings.



And so to the main staircase: an astonishing mix of grandeur and gracefulness. The balustrade in wood and wrought iron is extremely elegant. The height of the staircase is impressive, reaching practically all the way to the coffered and painted ceiling. Large 18th century paintings of the Roman school accompany the ascent to the first floor.


On the first and second floors are the bedrooms. These are not normally open to the public, except for one suite which can be made available to honeymoon couples.

Some of these rooms are particularly interesting for the eclectic or mock gothic style of the panelling and furnishings.
From the top floor the view over the lake is particularly impressive thanks to the height of the Villa, and the eye follows the flight of the swallows as they dart tirelessly through the summer sky from their nests in the dragon shaped water spouts.