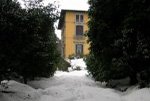 A historic garden is a fascinating world in miniature. The plants may be large or small, showy or modest, but all are of great interest.
Such a living world is in continual evolution. The owners can try to direct this evolution, but the major part is played by nature, through snowfalls, disastrous storms, seeds carried by birds or the wind. Managing this fragile equilibrium in a rational and discreet fashion, and with loving care, through problems and satisfactions, is the mark of the true gardener.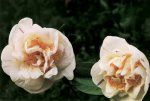 As our garden is not as large as many others, we are constantly torn between introducing new plants, following the example of the 19th century botanists, and just maintaining the original plants as we remember them.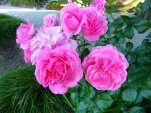 There is no doubt that the camellias and roses are our favourites, and the garden from March to June is an exceptional sight, with its riot of colours, shapes and varieties.
A further source of pride is that some of our camellias are over 150 years old and are extremely rare, in a few cases actually unique.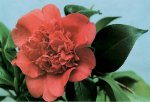 Nowadays we owe a debt of gratitude to internet for the amazing opportunity it gives us to consult English, German and American web sites in particular; the botanical background in these countries has fostered great advances in scientific knowledge. It's always an odd feeling to converse with our foreign visitors using the Latin names of trees and flowers as a lingua franca!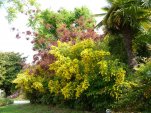 The species present in the garden are listed below in alphabetical order, subdivided by category, not very scientifically: Trees, Palms, Shrubs, Bamboos, Climbing plants, Flowers / herbaceous plants / ground cover plants / ferns. We have used primarily the botanical Latin name, sometimes including the common name. The rarest species, or those present with particularly numerous or important specimens, are marked with an asterisk.
We do realise that this list is not scientific; it is also not definitive, due to the fact that every year some variety disappears, or appears, or is planted. However, we think it right to try and keep the list up to date. We shall always be pleased to give our guests details of the plants in the garden, leaving it to them to judge the results of our efforts – and please feel free to offer your suggestions!

Trees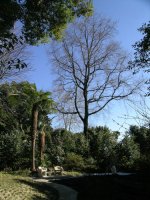 Acacia dealbata (mimosa)
Acer palmatum
Acer japonicum
Aesculus hippocastanus
Arbutus unedo (strawberry tree)
Camellia japonica (100 cultivars)*
Camellia higo*
Camellia sasanqua (20 cultivars)*
Camellia hiemalis
Carpinus betulus
Cedrus atlantica
Cinnamomum glanduliferum (camphor)*
Cornus florida
Evonimus planiales*
Fagus asplenifolia*
Fagus sylvatica
Ginkgo biloba
Ilex aequifolium (holly)
Laurus nobilis
Ligustrum lucidum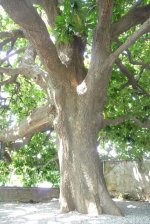 Ligustrum ovalifolium
Ligustrum sinensis
Liquidambar
Liriodendron tulipifera
Magnolia grandiflora*
Magnolia japonica
Nerium oleander*
Nyssa sylvatica*
Olea fragrans europea
Osmanthus ilicifolia
Paulownia tormentosa
Platanus orientalis
Prunus laurocerasus
Quercus robur
Rhododendron arboreum*
Sequoiadendron giganteum
Sophora japonica pendula*
Stewartia pseudocamellia *
Taxus baccata
Thuja arizonica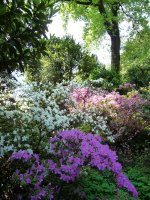 Palms
Butia yatay*
Chamaerops humilis *
Erithea armata*
Phoenix canariensis
Trachycarpus fortunei*
Washingtonia robusta*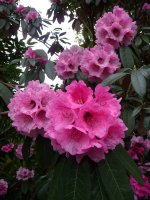 Shrubs
Abelia floribunda
Aralia fatsia japonica
Aspidistra elatior*
Aucuba japonica
Azalea (15 cultivars)*
Azalea indica rhododendron simsii
Azalea japonica rhododendron obtusum
Buxus (box tree)
Calathea
Ceanothus
Choiysia ternata
Choiysia ternata aurea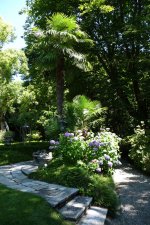 Citisus
Daphne odorosa
Deutzia
Ergeworthia chrysanthia *
Eleagnus pungens
Fargesia simba
Forsythia
Gardenia
Genista etnea (broom)
Hydrangea petiolaris
Hydrangea quercifolia
Hydrangea hidcote
Lagestroemia
Lavandula
Musa acuminata Colla (banana tree)
Nandina domestica
Photinia
Pieris
Potentilla
Raphiolepis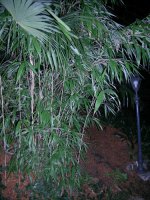 Rhus cotinus coggygria
Skimmia
Spiraea aurea
Spiraea billsardii
Spiraea boorvodi
Spiraea japonica
Syringa vulgaris (lilac)
Viburnum lucidum
Viburnum odorantissimum
Viburnum tinus
Viburnum opulus
Weigela florida
Yuccagloriosa

Bamboo
Chusquea
Fargesia simba thamnocalamus
Indocalamus tessellatus
Phillostachys aurea
Pleioblastus linearis
Pseudosasa japonica
Climbers

Ampelopsis (Canada grapevine)
Bignonia campsis radicans
Bougainvillea
Lonicera japonica (honeysuckle)
Clematis armandi*
Clematis montana
Clematis tetrarosae
Convolvulus
Ficus repens pumila
Hedera
Jasminum nudiflorum
Passiflora
Plumbago auriculata
Solanum jasminoides (jasmine)
Vitis
Wisteria sinensis (wisteria)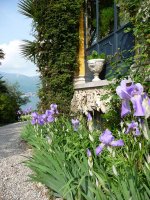 Flowers/Herbaceous plants/Ground cover plants/Ferns
Agapanthus
Agave americana
Ageratum
Aloe
Aspidistria
Aster
Begonia (5 varieties)
Carex
Ceanothus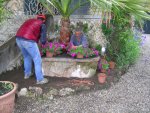 Convallaria japonica
Crocus
Cyclamen
Dahlia
Felci (various varieties )
Giaggioli
Gladiulus
Hosta
Iris
Hybiscus syriacus
Lantana
Lantana montevidensis


Lavandula angustifolia
Lilium
Narcissus
Osmunda
Pachisandra repens
Paeonia
Paeonia arborea
Pelargonium (geranium)
Phlox
Rosa* (20 cultivars)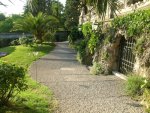 Salvia splendens
Scilla sibirica
Tagetes
Tradescantia
Zinnia
In the Rocailles and in the Dry Walls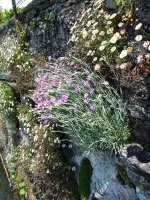 Alyssus
Anthirrinum (bocca di leone)
Armeria maritima
Aubretia leptioide
Bergenia crassifolia
Campanula
Cinerarius senecio cineraria
Convolvulus cneorum
Dianthus (various varieties)
Echilleria
Erigeron karviskianus
Iberis sempervirens
Lewisia cotiledon
Mesembriantheum
Phlox subulata
Saxifraga
Sedum
Sempervivum
Tapiens blu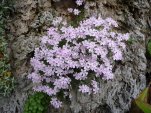 Thymus alpinus
Vinca minor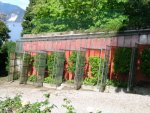 In the Lemon-House
Alocasia xanthosoma
Canna indica
Citrus bergamia (bergamot)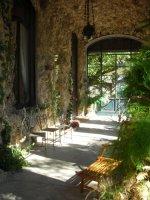 Citrus limon (lemon)
Citrus paradisi (grapefruit)
Citrus reticulata (mandarin)
Citrus sinensis (orange)
Convallaria majalis (lily of the valley)
Kumquat (chinese mandarin)
Zantedeschia aethiopica (arum lily)
In the Winter Garden
Agave
Araya sericofera
Asparagus plumosus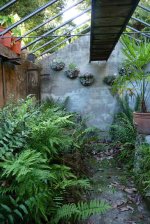 Asparagus springeri
Begonia (various species)
Hoya carnosa*
Jasminum officinale
Cypripedium incognitum (orchid) (various varieties)
Nephrolepis boston
Phalangium
Tibouchina urviellana
Tillandsia
Trachelospermum jasminoides


…plus overwintering plants.
In the Cold Garden
Achillea filipendula
Adiantum venustum (selaginella)
Alyssum montanum
Asplenium trichomanes
Aubretia hybrida cultorum
Blechnum capense
Ceterach officinarum
Microlepia
Polypodium
Pteris cretica
Saxifraga arendsii
Silene schafta

In the Old Greenhouse
The old greenhouse has been left as it was, with its original iron structure.
The numerous varieties of ferns, allowed to grow spontaneously with a minimum of selection, give the greenhouse a quite distinctive atmosphere.
In the Kitchen Garden (depending on the time of year…)
Aubergines, tomatoes, celery, cabbages, pumpkins, courgettes, basil, rosemary, sage, parsley, chilli, etc
You may smile at our including these "kitchen plants", but we are proud of our vegetables too! We still remember how after the war we used the skins of angora rabbits raised in the greenhouses to keep us warm, and ate eggs from the hens that scratched about in the tennis court.